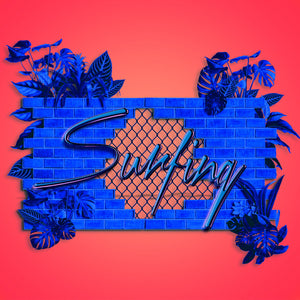 Stoner house and lazy crystalline techno from NYC producer Peter Segerstrom aka Portable Sunsets. His new project Surfing rotates around semantic satiation and heavy, pared back, club muscle, pairing absurdity with insanely heavy techno for ten jumped up, raw and colourful tracks.

This self-titled release was made with some eurorack gear, some Max patches and Peter's voice, repeating a word so many times it doesn't make sense any more against a backdrop of blurry, erudite electronics. These vocals either ride along over ghosted house drift like "Glass Eye" (which somehow builds a weirdly imagistic and darkly comic narrative via it's vocal repetitions) or serve as straight up rhythmic tool like the more punctuative "BBC" or mechanic and harshly textured "Warlock". Percussion and basslines are focal but melodies occasionally creep out of the weirdness like Tiga's paranoid, crabby uncle.

Surfing is for large speakers; a claustrophobic slow motion drag through the inside of a drum machine, where echos of Dancemania, Thomas Brinkmann, DJ Assault, DNA, Early Steve Reich tape pieces, Glossolalia, DJ Funk, and science fiction vibes ring out of the periphery alongside his own off-kilter humour and sly outlook.
credits
released April 7, 2015

Art by Colin Young