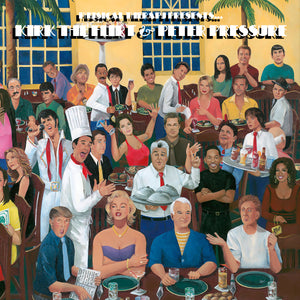 Berlin-based Physical Therapy returns luxuriously to New Jersey for his debut on 1080p as two cool customers, Kirk the Flirt & Peter Pressure. The story goes that he first met the duo after seeing them DJ at Club One West in Englewood, New Jersey and after many pestering email, they agreed to send him some of their demos—the very tracks that would become this release (or so we are told.)

These two NJ-garage devotees are not just DJ partners but long time best friends, born too late for the golden age of New Jersey house. This collection of eight Jersey-warped house tracks and acid disco edits reflect all the warmth and weirdness of their long standing relationship.

Pulling from a backlog of unreleased works, these tracks survey the emotional swinging garage, strange house and distinct disco sound they had created. Across the ultra-up house of "Teddy Bear" to the smokey slank of "Never Ever Give Up" and the grinning extravagance of edits like "Poodle" and "The Eye", the yearning for bygone NJ club feelings is as present as the urge to push forward.


released October 23, 2015

Cover painting by d.hummel-marconi