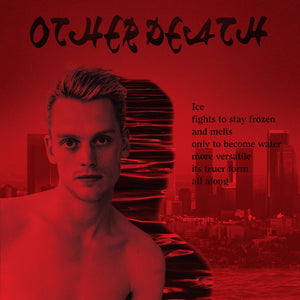 Sean Nicholas Savage, a master of tenderness, reflection and projection, has released and toured relentlessly in pursuit of the rarer beauties found only in the nuance of pop song and performance.
Other Death was recorded in Santa Monica, Los Angeles as a collaboration with Agor, of Savage's Arbutus labelmates Blue Hawaii, while Errhead of Doldrums plays on much of the record. Ramona Gonzalez Nite Jewel also makes an appearance, as do TOPS' Jane Penny and David Carriere. This is Savage's highest fidelity recording to date, with daring, captivating, and as always minimal and soft production style. In contrast to his usual introspection, Other Death is immediately more upbeat, uptempo, confident, inspired and delivers more consistent pop singles than any of his previous records.
Savage is not playing to the middle. Here he gives his listeners, those who crave a harder SNS smack, the energy they crave. This is the release fans will turn to when they want to feel the sophisticated, delicate, and enchanted music of Sean Nicholas Savage at its most brave, free and loud. It's as if upon being tossed a copy of Other Life, Savage reads the message; "Other Life?" and throws it back at us in blood red, "Other Death".
Savage, maitre de la tendresse, de la réflexion et de la projection, a créer, lancé et tournée sans cesse dans la poursuite de la beauté rare qui se trouve que dans la nuance de la chanson pop et de la prestation.
Other Death a été enregistré à Santa Monica, Los Angeles. L'album est le fruit d'une collaboration avec Argos, membre de Blue Hawaii, et Errhead, de Doldrums, qui joue sur la majorité de l'album. Ramona Gonzalez Nite Jewel fait une apparence ainsi que Jane Penny et David Carriere du groupe TOPS. Ceci est l'enregistrement le plus exact depuis son début audacieux, captivant avec un style de production toujours minimal et doux.  En contraste avec son introspection usuelle, Other Death est immédiatement plus optimiste, uptempo, confiant, inspiré et livre des pistes pop plus cohérentes que ses albums précédents.
Savage prends des risques. Ici il donne a son public, qui demande a gouter a un SNS plus ardu, exactement ce qu'ils désirent. Ceci est l'album vers lequel les fans feront référence quand ils veulent ressentir la musique de Sean Nicholas Savage sophistiquer, délicate, et enchanté dans sa forme la plus brave, libre et bruyante. C'est comme ci en recevant une copie de Other Life, Savage interprète le message "Other Life?" and nous renvois en encre rouge sang, "Other Death"
tracklist
| | | |
| --- | --- | --- |
| 1. | Death | 2:02 |
| 2. | Propaganda | 3:33 |
| 3. | Casablanca | 3:15 |
| 4. | Dont Be Sad (Prod TOPS) | 4:01 |
| 5. | Promises | 3:43 |
| 6. | Romeo | 3:00 |
| 7. | 1 More Chance (Feat Nite Jewel) | 3:18 |
| 8. | Suburban Nights | 4:33 |
| 9. | Delta Fresh N Breezy | 2:04 |
| 10. | SOS | 3:31 |
| 11. | Why I Love U | 2:32 |
| 12. | Young Again | 3:40 |