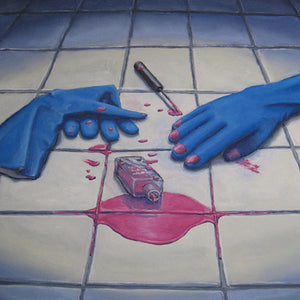 The new project from Vancouver's Daniel Rincon aka NAP sees this Colombian-born experimenter investigating proto IDM and rhizomatic house and techno with the same scruffy, warm touch as his previous guitar-based noise projects. For debut "Uncharted", NAP's primitive four-track ideas have been realized to the next level (ie. a computer) with the production help of Jesse Creed (The Passenger) and Sophie Sweetland (D. Tiffany) for 51 minutes of diverse, inclusive and classically DIY excursions into light, lo-fi house, textural IDM, as well as darker acid vibes and hazy, rhythmic ambience.

"Uncharted" becomes a destination for free expression, mastering new gear along the way. These experiments show a serious sense of craft offset with a lightness and humour that is also echoed in the community vibe that surrounds both the album's creation and Rincon's wider role in Vancouver's music scene. His garage / punk / lo-fi pop cassette label Student Loan records and consistently supportive (and quality) live bookings crossover with 1080p's own roots in post-noise and cross genre experimentation as well as being similarly loose and vivid stylistically.

Using the cheapest guitar pedals, grooveboxes and synths across a few sessions in Vancouver's Deep Blue studios (home also to D. Tiffany, Friendly Chemist and Neu Balance), "Uncharted" strays as far from purist electronic ideals as possible in its melting pot type of hybridity; transparent in its inspirations and instinctually celebratory.


released July 7, 2015

Art by Chad Murray

Mixed and mastered by The Passenger at CanMARC