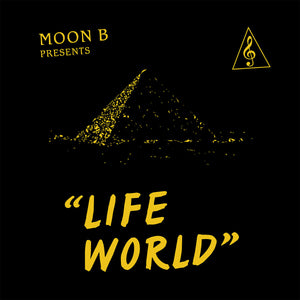 Chopped, grainy subcontinental film aural motifs paired with other slankness on Moon B's latest and 1080p debut "Lifeworld". After a brief pause since his PPU releases, Wes Gray returns with a remapped take on his distinctly dusty and groovy sample-focused synth funk.

Gray has worked towards his particular sweet spot of retrofuturism, and "Lifeworld"'s segues between antiquity and contemporary g-funk benefit from extremely rich, filmic moods and a general knack for basking in warmth and sincerity rather than obscurity.

Recently inspired by Delroy Edward's "Slowed Down Funk" tape series, his spin on the mixtape format is freaky and heavy on bonus synth overlays, typically scruffy but velvety textures and moods galore that from one minute lead from a walk down Beale Street in Memphis only to shift into a steamy auto rickshaw in Chennai the next.

It's all in the pocket of his cratedigging influences, and"Lifeworld" also has residual vibes of someone like Games' slowed and screwed-tempo samples; in this case, South Asian cinema clips are looped amidst analog synth overlays with similarly syrupy implications of his original grooves (much like on his last mixtape effort "Any Questions" edging against more texturally and vibe-diverse source material.

Concept and tracked by Moon B in Los Angeles, October 2014. "Stuff a stocking wid it!"


released December 16, 2014