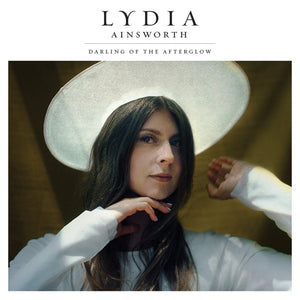 "Jimi Hendrix said you need fantasy," says Toronto's Lydia Ainsworth, "to see reality more clearly." On her sublime second album, Darling of the Afterglow, Ainsworth upholds Hendrix's wisdom in the best way. Vividly imagined and richly felt, the follow-up to Ainsworth's Juno-nominated Right from Real (2014) is an album of intimate emotions projected in heightened widescreen, where yearning pop classicism and classical smarts merge with other-worldly synthetic sounds and weird-gothic R&B influences.

For Ainsworth, it represents a great leap of confidence from her prodigious debut, whether she's conjuring the crystalline harmonies and death's-head rhythms of 'The Road', the lush earworm pop of 'Ricochet' or the small-hours reverie of 'WLCM'. Blessed with an extraordinarily supple voice, Ainsworth commits herself fully on all fronts, honouring the words of 'Afterglow': "To play it safe is not to play at all."
The haunting cover of Chris Isaak's 'Wicked Game' is a test-case; embracing its vocal challenges live, Ainsworth relished stepping outside her comfort zone. "I usually have to be out of my element to get that spark of inspiration," she says. The album title itself came to her while she was out of her element, explains Ainsworth, living near LA's Echo Park - home to the Art Deco statue 'Nuestra Señora Reina de Los Angeles' (Queen of the Angels). "Walking around the lake just after sunset at a time when I was desperate for human connection, I found comfort in this statue. She gave me the inspiration for the lyrics to the song. It was as if she was singing them to me." Pass the message on: Darling of the Afterglow is a bold, beautiful album from a voice ready to be heard.
Jimi Hendrix a déclaré que vous aviez besoin de fantaisie ", explique Lydia Ainsworth, de Toronto," pour voir la réalité plus clairement. "Sur son sublime deuxième album, Darling of the Afterglow, Ainsworth confirme la sagesse d'Hendrix de la meilleure façon. Vénérablement imaginée et richement ressentie, le suivi du droit de Real (2014), nommé par Juno d'Ainsworth, est un album d'émotions intimes projetées dans un écran grand format, où le classicisme pop et les intelligences classiques se fondent avec des sons synthétiques d'autre monde et des gothiques étranges Les influences de R & B.
Pour Ainsworth, il représente un grand saut de confiance de ses débuts prodigieux, qu'elle conjure les harmonies cristallines et les rythmes de tête de mort de 'The Road', la poputerie vertigineuse de 'Ricochet' ou la rêverie des petites heures de 'WLCM' . Béni d'une voix extraordinairement souple, Ainsworth s'engage entièrement sur tous les fronts, en honorant les mots de "Afterglow": "Jouer en toute sécurité n'est pas de jouer du tout".
La couverture hantée du «jeu méchant» de Chris Isaak est une épreuve; Embrassant ses défis vocaux en direct, Ainsworth a apprécié sortir de sa zone de confort. "Je dois généralement être hors de mon élément pour obtenir cette étincelle d'inspiration", dit-elle. Le titre de l'album lui-même est venu alors qu'elle était hors de son élément, explique Ainsworth, vivant près du parc Echo de Los Angeles, où se trouve la statue d'art déco 'Nuestra Señora Reina de Los Angeles' (Reine des Anges). "Marcher autour du lac juste après le coucher du soleil à un moment où j'étais désespéré pour la connexion humaine, j'ai trouvé le confort dans cette statue. Elle m'a donné l'inspiration pour les paroles de la chanson. C'était comme si elle les chantait. "Passez le message sur: Darling of the Afterglow est un album audacieux et magnifique d'une voix prête à être entendue.
tracklist
| | | |
| --- | --- | --- |
| 1. | The Road | 3:40 |
| 2. | What Is It | 2:57 |
| 3. | Ricochet | 3:52 |
| 4. | Afterglow | 3:45 |
| 5. | Open Doors | 4:22 |
| 6. | Spinning | 3:34 |
| 7. | Into The Blue | 3:32 |
| 8. | Wicked Game | 3:11 |
| 9. | I Can Feel It All | 4:34 |
| 10. | WLCM | 3:08 |
| 11. | Nighttime Watching | 4:07 |