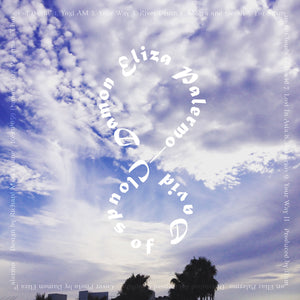 Classic ambient tape release from Los Angeles' Damon Eliza Palermo, stepping back from his luxurious and hard-working house/disco project Magic Touch and into full crystalline immersion on "Clouds of David"—full, forestial ambience padded by light percussion and large swathes of breathy, deep blue melody.

Palermo's made a small handful of new age outings under his real name already (homemade CD-R mixes like "Enigmatic Ocean" and one , but this c58 is the first full realization of his ambient work to see release. "Clouds of David" is not only about looking back through Cocteau and Kompakt-types of filters, but also a sidestep back to his own days at university a decade or so ago where shoegaze and krautrock helmed his interests.

Using mostly a Yamaha SU700, Palermo created these nine tracks in around two weeks with synths, samples and Komplete 10 plugins—no real guitars or piano, just drifting deep into both memories of Post-Rock, winters in his hometown of Michigan, metamodern visions of mono no aware and more general manifestations of seasons and sadness documented through iPhone lens.


released November 27, 2015