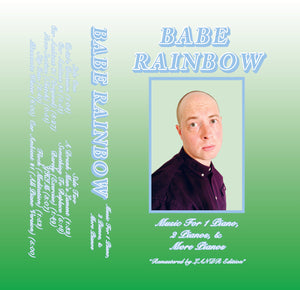 "If I had to choose [Brian Eno's] greatest contribution to popular music it would be the idea that musicians do their best work when they have no idea what they're doing." - Sasha Frere-Jones on Brian Eno (Ambient Genius, July 7)
This is something Babe Rainbow (aka Cameron Reed) believes wholeheartedly. He hadn't really made electronic music before starting Babe Rainbow a number of years back, and shortly thereafter he was signed to Warp. Before that, he had been making angular punk music in Vancouver.
Each of these 12 tracks are composed in Reed's by now recongisable mode of lucid electronica. Stripping instrumentation back to solely piano reveals crystalline and oblique meditations on residual influences from Phillip Glass, Erik Satie, and Terry Riley to Keith Fullerton Whitman and Nils Frahm.
Before joining How To Dress Well on the road during 2012 he had never really played piano besides some occasional tinkering. So when he became comfortable enough to play, he started writing. It became a new challenge with endless possibilities. Appreciating the limitations of one instrument and juxtaposing the experience of
...
more


released September 27, 2014

Art by Cameron Reed

Remastered by LANDR