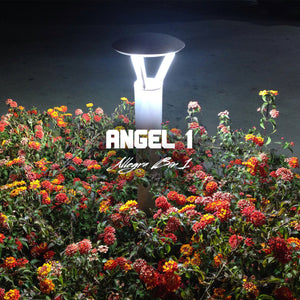 Los Angeles-based producer Angel 1's latest burst of unique plasticity finds middle ground between classic ambient electronica and spacious future club ideals. 1080p debut "Allegra Bin 1" is about stepping outside; the constant unfolding that occurs as you move through the city with communication and drama on many levels, interpreting the messages and signifiers that can hit at any moment and getting extremely buzzed in the process.
Angel 1 writes instruments that balance his cultural exposure via the internet with other experiences of walking around Los Angeles. This transience and hyperactive genre shapeshifting come in the form of paradisaical synth flourishes, vivid expanses of grassy rendered landscapes and tranquil shopping network stasis vibes that are permeated by spacious, slick club fragments and punctuated by sudden and soulful drum and bass rollouts.
The resulting half-faded synthetic/digital psychedelia is revealed gradually but insanely boldly with lush, warbled synth textures conjuring early 00s IDM memories as much as recent forward-focused genre experiments from both the internet and the club. Locating glassy club music and faked out digital organics into a more hypnogogic realm, Angel 1 disembodies bass music and
...
more


released November 18, 2014