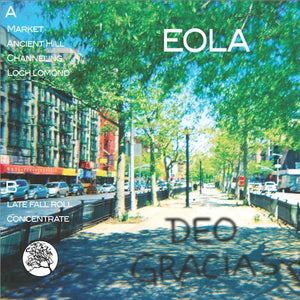 Eola is Edwin Mathis White, a singing project begun
Eola is Edwin Mathis White, a singing project begun in March 2010 after moving back to Brooklyn from Montreal.
Deo Gracias is the 3rd Eola release. Recorded mostly throughout the summer of 2010 in New York City and Orlando, Florida.
The singing on "Market" was recorded in 3 successive takes of improvised overdubs. After making the beat i was trying to make my words and utterances dance a tango with the pitch shifted drum machine rhythms. The song is named after my old street in Chinatown.
"Ancient Hill" was originally almost all whistling. I wanted to make a new catchy song for people to whistle around town. It feels like an old American tune to me somehow, the vibe or the setting. When i made it i was thinking about walking around either on the plains or in an old wooded area near a creek, maybe on the Appalachian trail. None of the whistling or vocals are pitched shifted. all sung by Eola, real style
"Channeling" was recorded right after "Market" on the same night on the same kitchen table in Orlando, with heavenly overdubs added at Does Are Studios, Market St. 
New York, NY.
 I got a little lost while recording it and the experience felt akin to channeling foreign energy, hence the name.
"Loch Lomond" is a beautiful Scottish hymn. I wanted to sound like 100 Edwins singing in a massive Anglican cathedral with a centuries old pipe organ that weaved through the innards of the medieval stone. Recorded in a show closet in Manhattan with a SK-1 and some sick pedals. Praise the unknown…
"Late Fall Roll" is an attempt to mix beautiful Brazilian bossa nova/MPB vibes with 70s American funk. sung in improvised fake Brazilian Portuguese for the song's first half as a tribute to that language's sonorous beauty. then funk guitars step in an lead a mantric chant back towards the continental USA
"Concentrate", the only track on the album recorded after 2010, is just a swingin fuzzy organ jam. one of the best things in life is swinging around that beat. That is the purpose of this song. Melting melodies and sexy swinging, or something.
tracklist
| | | |
| --- | --- | --- |
| 1. | Market | 8:03 |
| 2. | Ancient Hill | 3:54 |
| 3. | Channeling | 6:05 |
| 4. | Loch Lomond | 2:43 |
| 5. | Late Fall Roll | 15:00 |
| 6. | Concentrate | 4:11 |