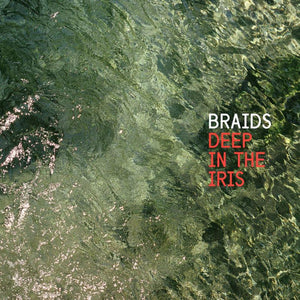 To record their third album, Deep In The Iris, Braids decamped to a series of retreats in the mountains of Arizona, Vermont, and upstate New York. Surrounded by nature in all its warm vitality, the longtime bandmates strove to shed the fabric of their day to day relationships, being bare and vulnerable before one another. What resulted is Deep In The Iris, their strongest record to date – powerful, yet fragile; immaculately sculpted, but deeply human.
Driven by roomy acoustic instrumentation and tasteful electronics, Deep In The Iris is easily Braids' sunniest and most immediate record. While the icy, airless production of their second album Flourish // Perish suited the songs' inward gaze, the widescreen warmth and full-bodied punch of Deep In The Iris are the perfect complement to its unflinching lyricism.
Raphaelle Standell has always had a formidable voice but rarely has it sounded as vital, focused, and powerful as it does here. True to the process that birthed it, the record explores a number of heavy subjects, including pornography, abuse, and slutshaming. Standell's emotional vulnerability becomes a triumphant weapon in its own right: scything through wrongdoing and shame with equal aplomb, and clearing the way for the many others who will find resonance in the bravery of these lyrics. Written from a place of inspiring strength and unblinking lucidity, the lyricism of this record is a cathartic gift.
Pour enregistrer leur troisième album, Deep In The Iris, Braids a décadé à une série de retraites dans les montagnes de l'Arizona, du Vermont et New York. Entouré de la nature dans toute sa vitalité chaleureuse, les bandmates de longue date s'efforçaient de jeter le tissu de leurs relations quotidiennes, étant nu et vulnérables les uns aux autres. Ce qui en a résulté est Deep In The Iris, leur record le plus fort jusqu'ici - puissant, mais fragile; Imprudemment sculptée, mais profondément humaine.
Conduite par une instrumentation acoustique spacieuse et une électronique de bon goût, Deep In The Iris est facilement l'enregistrement le plus ensoleillé et le plus immédiat de Braids. Tandis que la production glacée et sans air de leur deuxième album Flourish // Pérish convenait au regard intérieur des chansons, le coup de poing et le coup de cœur de Deep In The Iris sont le complément parfait de son lyrisme inébranlable.
Raphaelle Standell a toujours eu une voix formidable, mais elle a rarement sonné comme vital, concentré et puissant comme il le fait ici. Fidèle au processus qui l'a frappé, l'enregistrement explore un certain nombre de sujets lourds, y compris la pornographie, les abus et le slutshaming. La vulnérabilité émotionnelle de Standell devient une arme triomphante à part entière: dissimuler les actes répréhensibles et la honte avec l'aplomb égal et ouvrir la voie à d'autres qui trouveront une résonance dans la bravoure de ces paroles. Écrit d'un lieu de force inspirante et de lucidité sans pinceau, le lyrisme de ce disque est un cadeau cathartique.
tracklist
| | | |
| --- | --- | --- |
| 1. | Letting Go | 4:22 |
| 2. | Taste | 5:01 |
| 3. | Blondie | 4:25 |
| 4. | Happy When | 5:40 |
| 5. | Miniskirt | 4:54 |
| 6. | Getting Tired | 3:32 |
| 7. | Sore Eyes | 3:53 |
| 8. | Bunny Rose | 5:19 |
| 9. | Warm Like Summer | 4:24 |