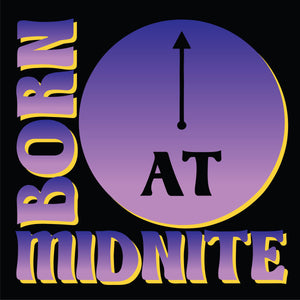 Born At Midnite is the faux-vanity project of Amery Sandford and David Carriere. Jamming strictly 'post-party' with a finish line posture – either completing or scrapping a song in a single evening – the Montreal based duo began writing together in late 2018. They adopted the name Born At Midnite because it 'sounds hip' as a leathery cool, garden variety band name; despite it not being necessarily or actually cool to be born at midnight in any conceivable way.
"Born At Midnite" is Born At Midnite's debut single – a four-song, eight-minute exploit into an alternate reality's pop music. Employing samplers, tape machines, and an extemporaneous approach to songwriting, the duo establish an eerily familiar atmosphere through an unpolished lens of thin ice. Playing into whilst poking fun at our era's omnipresent narcissism and self indulgence, the group stitch together an unsponsored sort of 'product-placement-punk'.
Amery Sandford is a visual artist and the casual power-pop songstress of the band BBQT. David Carriere is a producer, songwriter, and guitarist in the band TOPS, and more recently working with Sorry Girls, Forever, and a slew of secret unnamed projects.
A ~ Born At Midnite (Every Time)
AA ~ Born At Midnite (Every Time) (9AM)
B ~ Hawt Heart
BB ~ Hawt Heart (Instrumental)